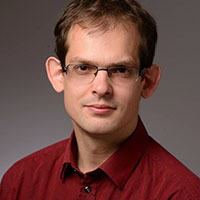 Márton Levente Horváth
Composer, organist
Horváth Márton Levente was born in Tapolca in 1983. He completed his elementary musical studies in Pápa and Balassagyarmat. At the Budapest Bartók Béla Music High School, he studied composition under Győr István Fekete and organ under Zsuzsán Elekes. In 2001, he became a student at the Liszt Ferenc Academy of Music, where his professors were János Vajda (composition) and Gábor Lehotka (organ). After obtaining his diplomas in 2006 and 2007, he continued his studies in the doctoral program at LFZE in the keyboard instrument subprogram. He earned his doctoral degree in 2014. He practices both as a composer and organist professionally.
Between 2003 and 2013, he served as the organist of the Szent László Church in Budapest-Kőbánya and as the organ accompanist for the Szent László Choir. Since 2010, he has been teaching at various institutions, including as a teacher at the Kodály Zoltán Hungarian Choir School since 2010 and as a part-time organ instructor at the Liszt Ferenc Academy of Music's Department of Church Music since 2015. Additionally, he became an adjunct professor at the same department in 2018. He was also an adjunct professor at Pázmány Péter Catholic University in 2016-2017 and has been a composition teacher at the Bartók Béla Music High School since 2017. In 2016, he received the Erkel Ferenc Award in recognition of his work as a composer.
As a composer,
he won the first prize at the Liszt Ferenc Academy's in-house composer competition in 2002 and 2004. He participated in Betsy Jolas's composition masterclass in Villecroze, France, in 2003, and received scholarships from the Académie Musicale de Villecroze in 2004 and 2005. He used the scholarship to create his album "Till Now," which was released by Hungaroton in 2005. He was awarded the Kodály Zoltán Artist Scholarship in 2008, 2009, and 2010. His works have been performed at various Hungarian festivals, and he has had his pieces played by renowned performers and ensembles in Hungary and abroad.
As an organist,
he gave his first solo concert in 2001 and has been performing regularly since then. He received the Annie Fischer Performance Scholarship in 2007. He attended several internationally renowned organist courses, including those by Ludger Lohmann, David Titterington, and Szathmáry Zsigmond. He participated in Olivier Latry's courses at the Notre Dame in Paris three times (2003, 2004, 2008).
Horváth Márton Levente's repertoire as an organist is highly diverse, ranging from the early Baroque to contemporary works. He frequently performs compositions by Bach, Buxtehude, Louis Couperin, Franck, Liszt, and Mendelssohn from the Baroque and Romantic periods, while also promoting 20th-century organ music. His favorite modern composers include Jehan Alain, Olivier Messiaen, Charles Tournemire, and Paul Hindemith. In addition to regularly performing his own organ compositions, he frequently interprets works by 20th-century and contemporary Hungarian composers such as Dohnányi, Lisznyay Szabó Gábor, and Maros Rudolf. He has been involved in numerous premieres, including works by Barta Gergely, Derecskei András, Fekete Gyula, Kákonyi Árpád, Kerékfy Márton, and Zombola Péter. He has performed as a soloist at the Sochi Organ Festival in Russia twice (2009, 2011) and has given concerts in Austria, Norway, and Slovakia. He also collaborates as an accompanist, chamber partner, and continuo player with various choirs, soloists, and orchestras. In 2011, under the baton of Zoltán Peskó, he performed Liszt Ferenc's oratorio "Christus" with the Hungarian Radio's music ensemble in Paris.
As a church musician,
he has been actively involved since the age of sixteen, considering church music service as the intersection of his vocation as a composer and organist. His compositional output includes numerous choral works specifically written for liturgical use. He currently serves as a cantor in two churches, the Szent Anna Parish Church in Budapest-Felsővíziváros and the Szent István Chapel in Császárfürdő.
His doctoral dissertation is also based on church music history research: his work entitled "A Genre in Illegality – Mass Compositions in Hungary between 1949 and 1969" examines the largely undiscovered Hungarian church music of the mid-20th century for historical reasons. The dissertation was expanded and reworked into book form in 2017.
Academic degree, university post: DLA, senior lecturer
Date, place of birth: 1983, Tapolca
Education:
 2001-2006: Liszt Ferenc Academy of Music – Major in Organ under Gábor Lehotka
 2001-2007: Liszt Ferenc Academy of Music – Major in Composition under János Vajda
2007-2010: Liszt Ferenc Academy of Music – Doctoral School
2014: Awarded DLA Degree – Dissertation Title: "A genre in illegality – Compositions of masses in Hungary between 1949-1969"
Master Classes:
Organ Master Classes:
Olivier Latry (2003, 2004, 2008)
 Ludger Lohmann (2005, 2008)
Zsigmond Szathmáry (2000)
David Titterington (2000, 2002)
Composition Master Classes:
Betsy Jolas (2003)
Johannes Kretz (2002)
Michael Jarell (2002)
Memberships:
Hungarian Music Society (Board Member)
Hungarian Composers' Union (Board Member)
Teaching Activities, Guest Professor Positions, Principal Master Classes:
2010-Present: Kodály Zoltán Hungarian Choral School
 Subjects: Music theory, music literature, composition, organ, piano accompaniment
2015-Present: Liszt Ferenc Academy of Music – Organ Teacher at the Church Music Department
 2016-2017: Adjunct Professor at Pázmány Péter Catholic University
2017-: Composer Teacher at Bartók Béla Music School
Other Activities:
2003-2013: Organist at St. Ladislas Church, Kőbánya
2014-Present: Organist at Felsővíziváros Church of St. Anne
2014-Present: Organist at Császárfürdő St. Stephen's Chapel, Budapest
Principal Concerts:
 2006 February: Performance of Messiaen's "La Nativité du Seigneur" at Bp. Belvárosi Főplébániatemplom
2009, 2011: Solo concerts at the Sochi Organ Festival (Russia)
 2011 October: Paris concert (Liszt: Christ, with the Hungarian Radio Music Ensembles)
 2014 September: Performance of Messiaen's "Messe de la Pentecôte" at Doctoral Closing Concert
2016 Spring: MAIMA Tour – 5 concerts nationwide with Rumy Balázs, featuring contemporary Hungarian works
 2017 November: Solo concert at Budapest's Mátyás-templom, premiere of Madaradante on pipe organ
Important Premieres:
 2008: Premiere of "35 csend" with Liszt Ferenc Chamber Orchestra
2009: Premiere of "Túl" at MINI Festival with Liszt Ferenc Chamber Orchestra soloists
2012: Premiere of "Forrástól kristályig – szimfónia" with Savaria Symphony Orchestra
2014: Premiere of "Missa 'in omnem terram'" at Doctoral Closing Concert with Alma Mater Choir
2015: Premiere of "Missa brevis in honorem Sanctae Ritae" at Salzburg Cathedral
2015: Premiere of "Psalmoid No. 1" at MINI Festival
 2015: Premiere of "Imaragana" at CAFe Budapest
 2016: Premiere of "Falak" with Concerto Symphony Orchestra
 2017: Premiere of "Crosswords – vonósnégyes" at MINI Festival
2018: Premiere of "Viivre" with Budafoki Dohnányi Symphony Orchestra
Composer's Evenings:
2010: Nádor Hall, Budapest, Blind Institute
 2013: FUGA
Awards and Honors:
Académie Musicale de Villecroze Scholarship (2004, 2005)
Kodály Zoltán Scholarship (2008, 2009, 2010)
 Fischer Annie Scholarship (2007)
Hungarian Academy of Arts Scholarship (2015)
 Liszt Ferenc Academy of Music Composers' Competition – 1st Prize (2002, 2004)
Fugato Orchestra Crossover Composers' Competition – 3rd Prize (2011)
 Vántus István Composers' Competition Prize (2015)